Photo Collage Paw Prints
31 reviews
From: £15.95
In stock
Fast delivery available
FREE delivery over £40
Personalised Pet Paw Print Photo Collage
Remember a special pet with one of our personalised remembrance prints, including a name and giant paw print featuring 5 photos. These great quality keepsakes come as prints mounted and/or framed, blocks, plaques and more. These make a beautiful home addition and remembrance keepsake.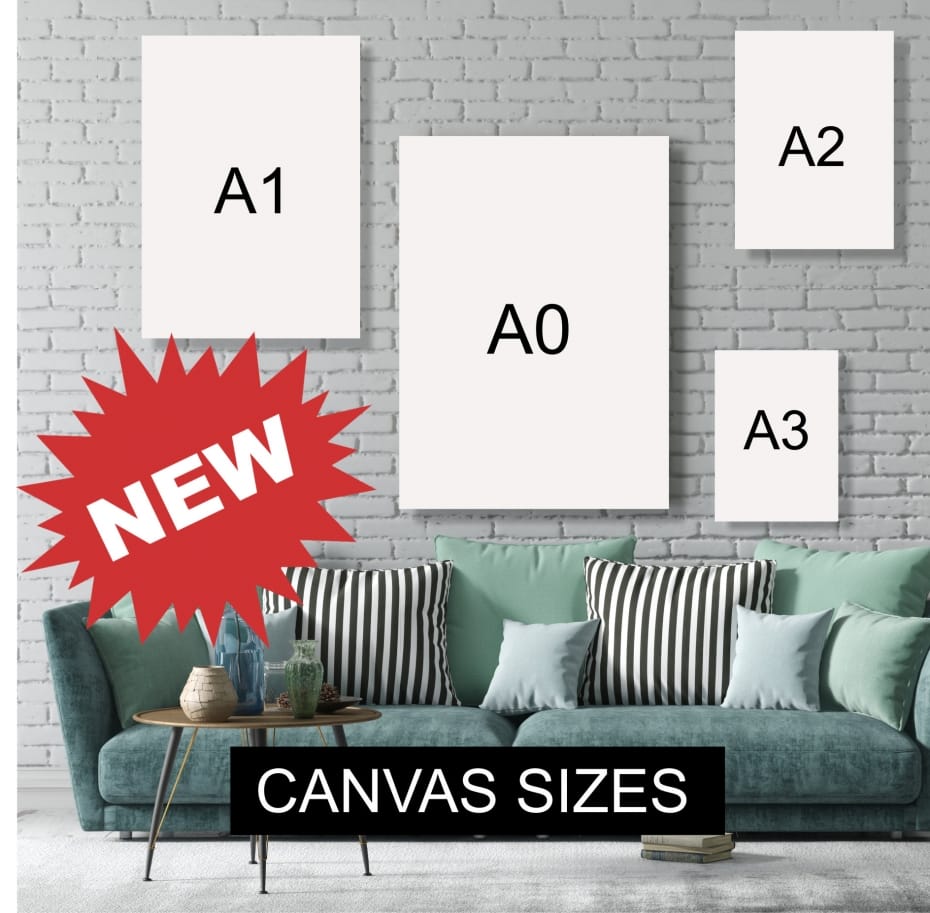 PRODUCT DESCRIPTION AND PRICES
A1 MOUNTED AND FRAMED £79.99
A3 MOUNTED AND FRAMED £49.95
A3 MOUNTED READY TO FRAME £29.95
A4 MOUNTED AND FRAMED £34.99
A4 MOUNTED READY TO FRAME £18.95
A5 MOUNTED AND FRAMED £25.95
A5 MOUNTED READY TO FRAME £15.95
PHOTO BLOCK £29.95
A3 CANVAS £39.99
A2 CANVAS £49.99
A1 CANVAS £79.99
A0 CANVAS £119.99
Printed using the best quality printing methods

Available in framed, mounted, canvas or acrylic block options.

Available frames sizes, A1, A3, A4 or A5.

Available canvas sizes, A0, A1, A2, or A3.
MOUNTED - Comes in a high quality cardboard mount and backing board ready to frame yourself. Choose from white, black, blue or pink.
FRAMED – Available in Wood finish, Black finish or White finish. frames include a mount of your choice & perspex instead of glass to ensure no damage to your order during delivery. A5 frames are wall hanging or free-standing, A4 & A3 are wall mounting only.
CANVAS - Using high quality printing techniques your design will be printed onto polyester canvas and attached to a solid wood frame. Your canvas will come with chrome sawtooth hangers to allow you to easily hang and display your personalised canvas. Available in a wide range of sizes you will be sure to design the perfect high quality canvas for your home.
PRODUCT DIMENSIONS
A1 Framed - 36 x 26.5 inches, (PRINT SIZE) 26 x 16.5

A3 Framed - 22 x 18 inches, (PRINT SIZE) 11.7 x 16.5

A4 Framed - 16 x 13 inches, (PRINT SIZE) 8.3 x 11.7

A5 framed - 12 x 10 inches, (PRINT SIZE) 5.8 x 8.3

A3 Canvas - 16 x 12 inches (THICKNESS) 4cm

A2 Canvas - 24 x 16 inches (THICKNESS) 4cm

A1 Canvas - 32 x 24 inches (THICKNESS) 4cm

A0 Canvas - 46 x 32 inches (THICKNESS) 4cm
FREE STANDING ACRYLIC PHOTO BLOCK
Luxury finish acrylic photo blocks are a modern alternative to the photo frame, these beautiful blocks are 8 x 6 inches & 1 inch thick.
At WFTH we pride ourselves on creating personalised gifts of the best standard. Our personalised photo frames are top quality and come in a range of designs, with personalized gifts for all recipients and occasions. These personalised photo gifts also make for a lovely addition to your own home, displaying memories as well as marking special occasions and milestones. Pair with one of our personalised frames to finish off this stunning keepsake. Our personalized picture frames come in black, white and wood effect and are of the best quality.
Live personalisation - Please note that we will print and manufacture only what is created by you on our website. By approving your design you are agreeing to the layout, colours and wording you have created. If you wish to amend an item in your basket, please click on the preview button to do so, your physical print may vary from the colour you see on the screen, this is due to individual screen resolutions.
Absolutely delighted with my item would highly recommend
Very happy with the outcome, really good quality and it came quickly.
Amazing quality and fast delivery.. my mother in law loved this just after the passing of her dog xx
Lovely item very well made xx thanks soo much
Absolutely beautiful and came in a timely manner
Great service def recommend so quick with delivery
It was for my sister, she didn't know it was coming and when she saw it, she loved it as much as I did! Moo moo was such a part of the family and this will remind us every day how loved she was. Thank you so much x
Beautiful, great quality and cane quickly.
Its excellent, I love it. Arrived with a damaged frame so I rang up and explained and they sent another one out special delivery for free, perfect customer service and delivery times. Would recommend and will be back to purchase again in the future. Thank you.
Really lovely product and quick delivery.
I am touched by how well it turned out. It's absolutely perfect for my boy xxx
I could not love this order any more. I did not have the best quality pictures to use but the quality of how write from the heart have printed it is excellent. I will definitely be ordering again as there is such a wide variety of sentimental gifts for a wide range of audiences! Thank you so much for my order!
Amazing better than I expected it to be
I love our Paw print picture frame of our beloved Strudel
Highly recommend
I placed an order for a pet memorial gift and must say I am beyond pleased with the service I was provided. The quality of the product is brilliant and it was packed with great care to ensure it wasn't damaged during delivery. I would highly recommend and order again.
I ordered this beautiful tribute to our cat for my daughter it arrived really quickly and the quality of the pictures and frame are fabulous.
It's beautiful and I can highly recommend the gifts and quality of service.
Thank you
Really happy with the pictures and the quality
Lovely item, and very fast delivery. Very pleased. Will definitely buy from you again. Thank you so much.
Fast delivery and so pleased with my personalised picture frame.

Good price and such a lovely idea

Thank you
Beautiful and is bringing us great comfort as we have hung it above where she used to sleep. Thank you
Wanted something to remember our much loved dog and this is perfect. Excellent quality and super service .
Bought this for my mother in law, as her precious Brandy recently passed away, and she was absolutely over the moon, she couldn't thank me enough,From ordering to the delivery the service was excellent,and the actual frame, and photos were of very good quality.
Excellent quality and value for money. Arrived promptly and was well loved by the intended recipient. Highly recommend!
Amazing!!! Very clear and printed well! Wasn't sure if the pictures would come abit blurry as looked it but is stunning.
The product is exactly like the photo and quality is great. Impressed with the prompt delivery.
These are so beautiful little memories of my doggies, the pictures are of high quality , you can choose your background and frame , super fast delivery, I had a big order so one picture was missing but with a quick phone call I received the missing picture the very next day, lovely customer service , very friendly and helpful , would highly recommend to family and friends , I will defiantly use this company again in the near future, can't thank you enough, very happy customer, would give 10 stars if I could, the box was also packaged very well so nothing broken💖🌈💖🌈💖🌈💖🌈💖🌈💖🌈💖🌈💖🌈💖🌈💖🌈💖🌈
Beautiful glass block purchased. Made a mistake on ordering and write from the heart we're quick to correct this for me. Would recommend
really pleased with it was a gift for my husband he loved it
Purchased a personalised photo collage paw print in remembrance of my dog. Very good quality and the photos are lovely and clear. Lots of choices of different coloured backgrounds and frames if you wanted. So easy to order, I absolutely LOVE it and would definitely recommend.
Thank you
Absolutely love this creation thank you soo much. Ideal gift for my partners birthday. Great service great delivery would recommend
Having lost our best friend a couple of weeks ago I ordered this plaque for my hubby's birthday. Its just beautiful and bought a few tears .
Absolutely love this collage, looks amazing. Fantastic service and delivery. Would highly recommend. Lovely tribute to our beloved dog we recently lost. Thank you.
FREE DELIVERY when you spend over £40
We offer a FREE delivery service when you spend over £40

We will aim to dispatch orders within 7 working days, they will be sent using Royal mail 2nd class who aim to deliver within 3 working days.

Please allow between 7-10 working days for your order to arrive.
2nd Class delivery,
£3.50 for the first item and £1 for every additional item

We will aim to dispatch orders within 7-5 working days, they will be sent to you using 2nd class Royal mail who aim to deliver within 3 working days.

Please allow around 8-10 working days in total for delivery.
1st Class delivery
£5.50 for the 1st item and £1 for every additional item

We will aim to dispatch your order within 1-3 working days, they will be sent to you using 1st class royal mail who aim to deliver within 1-3 working days.

Please allow around 3-6 working days in total for delivery
Next day delivery
£10 for the first item and £1 for every additional item

Order before 3PM for next day delivery

Next day delivery items will be sent using royal mail next day special delivery. (Although during the Covid-19 Royal mail cannot guarantee next day delivery on all occasions)

All orders placed before 3PM will be sent the same day (Monday to Friday) orders placed after 3pm will be sent the next working day

PLEASE BE ADVISED NOT ALL OUR PRODUCTS ARE AVAILABLE ON OUR NEXT DAY DELIVERY SERVICE - SEE PRODUCT INFORMATION FOR FURTHER DETAILS.
Returns and refunds
Delivery
At Write From The Heart, we always try to send your products in perfect condition. However, occasionally, a problem can arise. In the unlikely event that a product is faulty, or it is damaged in delivery or is the wrong item, we ask you to read the following and contact us if necessary.
You may specify a delivery address which is different from your billing address, if, for example, you would like us to deliver the products directly to a friend, a relative, or to your place of work.
Whilst we make every effort to deliver goods within the specified timescale, on occasion due to unforeseen circumstances we cannot always guarantee delivery in said time, or accept liability for deliveries made outside this timescale. This also applies to products sent direct from our manufacturers. We cannot accept liability for out of pocket expenses or other costs incurred due to failed or delayed deliveries.
If the product(s) you have ordered do not arrive within 28 days of placing the order, Write From The Heart accept no liability unless you have contacted us via email within this period.
Returns and exchange
If you are not completely satisfied with your non-personalised goods, simply return them to us at any time within 14 working days of receipt. The costs of returning goods to us shall be borne by you. Unfortunately we are unable to refund postage costs on unwanted non-personalised items.
Your rights to return the goods to us will not apply in the following circumstances:
-Any products that we have made, personalised or customised specifically for you
Write From The Heart do not offer refunds for personalised goods custom made for you. Most products on the website are personalised goods; this includes any products which include your own photo or any text changes. Only replacements will be sent for any faulty, damaged goods or goods which have not arrived.
With any faulty or damaged goods, we ask you to return the product to us within 7 days. Once the product has been returned, we will then issue a refund (THIS DOES NOT APPLY ON PERSONALISED GOODS) or send a replacement. Please note that postage will be refunded in full for any items returned which are faulty or damaged.
Replacements will be sent within 7 working days.
Your rights to return the goods to us will not apply in the following circumstances:
Where, in our opinion, you have not taken reasonable care of goods whilst in your possession and have not been returned with the original packaging.
If you have made a spelling mistake on your order and it has been sent for production.
You have disposed of the item you have an issue with.
We regret that postage and packing costs for unwanted items cannot be refunded after 7 working days from when the order was delivered.
This returns policy does not affect your statutory rights.
The address for returns is:
Write From The Heart Ltd
The Berkerley Centre
Station Road
Chepstow
Monmouthshire
NP16 5PB
Please read before designing your product
Use the personalise me button to see what can be personalised on this product
From left to right on the toolbar:
1. Camera - Allows you to choose a photo from your device to upload. Once chosen, it will upload automatically. Photos must be jpg/jpeg format.
2. Zoom (out) - Zoom your photo out
3. Zoom (in) - Zoom your photo in
4. Rotate (clockwise) - Rotate your photo clockwise
5. Rotate (anticlockwise) - Rotate your photo anticlockwise
6. Colour - Flick between a colour and greyscale version of your photo

To change the photo once uploaded simply click on the photo you'd like to change on the toolbar and select a new photo from your device it will then replace the original photo

To reposition your photo, click and drag or use your finger if using a touchscreen. You may need to zoom in/out as well to get the best placement.
Toolbar icons may appear greyed out at first. They will be activated once a photo has uploaded.
We print the exact copy of your design directly from the website
The text you add in the text boxes will appear live on the design
Please check all spelling, capital letters on names
And that the text is correct and in the right position
Please remove any text you don't require in the text boxes
Add the same or similar amount of text as on the sample for best results
The more text you add the smaller it will appear
Please check the photos are in the right position and heads not cut out or black edges showing. We don't recommend using screen shots.
By checking out you are agreeing that you are happy with your design so please check it carefully
Your preview is available in your basket please also check it there, you will also have a preview of your product on your confirmation email and in your account on our website