Wedding memorial ideas: Remembering a loved one on the big day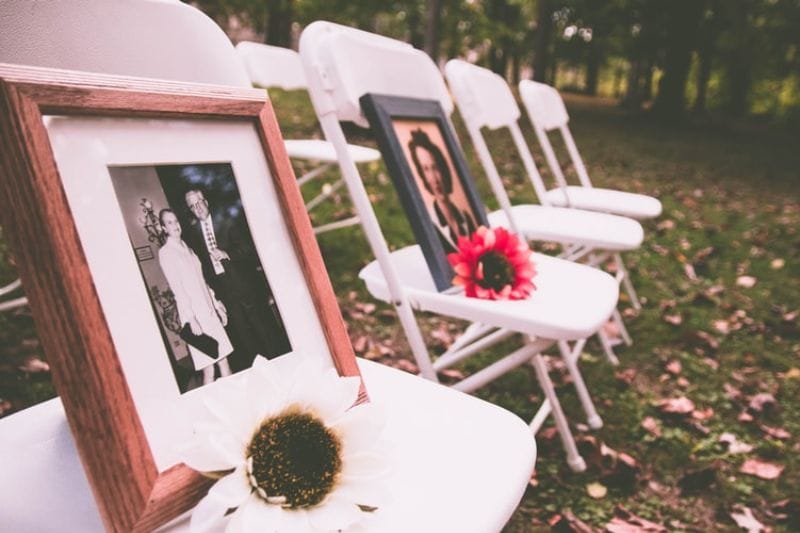 Losing a loved one is never easy — especially when you have a once in a lifetime celebration ahead of you. But keeping them close in spirit can make it much easier to enjoy the day, knowing they are still playing a part in your wedding.
Whether you're looking for a way to honour your bride's late father by including him in your speech, or you're trying to think up a way of reflecting your deceased loved one's presence at the head table while you sit down to dine together, there are plenty of ways you can incorporate your lost loved one into your wedding day.
In this guide, we will be sharing some lovely ways you can honour a loved one you've lost on your big day. We'll cover:
What to consider before incorporating loved ones into your wedding
Wedding remembrance ideas
Spoken ways to remember them
Visual ways to remember them
What to consider before incorporating lost loved ones into your wedding
First and foremostly, your wedding day is a time for celebration, and while you'll want to share it in whatever way you can with deceased loved ones, it's important that you don't overwhelm yourselves or your guests with sadness. So, it's important to get the balance right to ensure you can still enjoy your day.
So, before you begin planning how to incorporate your late loved ones into your wedding, it may be a good idea to think about the following:
How recent was the loss?
Time really does heal all. While you will always think of and miss loved ones who have passed, as the years go on you'll be able to reflect on great memories, rather than focussing on the sadness of them being gone.
The time elapsed from the passing can help you to decide how many reminders of them you'll be able to handle on your big day. For example, if it was only a month ago, the pain is likely to still be very raw and having lots of reminders of them around your wedding venue may make you and others feel very sad and distressed. If their passing was a few years ago and you feel capable of handling a full memorial table dedicated to them at your wedding, you could do just that.
Just remember that you should only do whatever you're comfortable with yourself, to ensure you can all still have a brilliant day celebrating the start of a new chapter for you and your partner.
How much emphasis do you want to put on remembering your loved one?
Having your loved one at your wedding in spirit is sure to be particularly important to you, but it's also worth considering how much emphasis you'll want to put on the loss. There may be some attendees who also knew them so you might want to think about how it may impact them, too.
If you want to keep it more subtle, you can have a few little reminders dotted around. Or, if you'd like to honour them more explicitly, you could try having a dedicated area for people to pay their respects to them.
What was the person that you're honouring like?
If your lost loved one hated being at the centre of attention, you may also want to consider this when thinking of how to honour them at your wedding. If they were quite introverted, simply having a framed photo of them on the head table may be the perfect touch to remember them with.
If they had a bold personality and were always the life of the party, you could think about much bigger gestures to remember them in true fashion.
Wedding remembrance ideas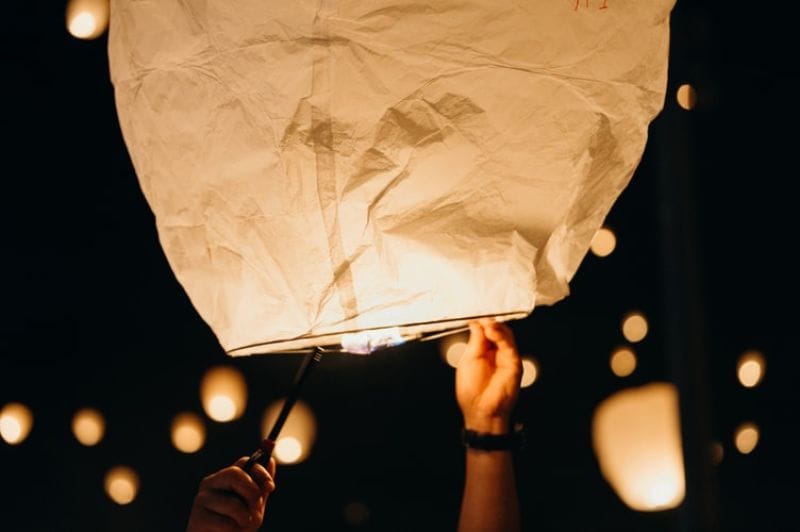 There are so many different ways you can remember a deceased loved one at your wedding, whether that's a spoken gesture or something visual — or maybe even a bit of both. Having some touches to remind you that they are with you in spirit will really tie your day together.
Spoken ways to remember them
If you'd like to invite your guests to join you in remembering a loved one, you may want to think about how you can do this with spoken word.
Honour them in your speech
If you're planning on giving a speech on your wedding day, dedicating a proportion of your speech to pay your respects to your lost loved one is sure to be a wonderful way to remember them.
Perhaps you'll share some of your favourite memories with them, or highlight the remembrance touches you've placed around the venue to your guests and explain their significance. You could even finish your speech asking your guests to raise a glass and toast to your loved one in heaven. However you choose to honour those who can't be with you, it's sure to add a lovely, heartfelt touch to your speech.
Dedicate a poem to them
If the loved one you've lost adored poetry, what better way to honour them at your wedding than by having their favourite poem recited during your ceremony? It'll be an extra special way of getting them involved in your celebrations when they can't be there in person.
If you're quite the wordsmith and want to go the extra mile, you could write and recite your own poem that you've written with the deceased in mind. This will add a beautiful touch to your wedding proceedings and is sure to be loved by all your guests — especially the ones that knew them.
As your wedding day should be a happy time, try to pick or write a poem that has a more joyful theme and focuses on reflecting on the good times, rather than the loss. If you want to keep the special words you wrote for them to treasure forever, you could consider getting them put into a personalised box frame after the big day. You can then proudly display these in your home next to your photos of your lost loved one.
Share and display their favourite quotes
Another great way of showing you are thinking about a lost loved one is to share some of their favourite quotes as part of your wedding ceremony and reception. for example, you could subtly work them into your vows, or recite them in your groom's speech.
You might even want to get them printed and framed so that you can place them around your venue. As well as adding a beautiful touch to your wedding décor, the meaning they hold will resonate loudly with so many who knew and loved them, too. Why not browse our range of framed quote prints? We might just have your special quote already framed.
Mention them in the order of service
If you plan to have an order of service card waiting on your guest's seats, you could consider adding a tag with a dedication to your late loved one on it or turning it into an 'in loving memory' wedding programme.
If you'd prefer more subtle touches, you could have a symbol or sign you associate with them printed onto the order of service. This would be subtle enough for it to not detract too much attention from the celebration at hand, but will serve as a beautiful reminder for you and your guests who know the meaning behind it.
Have your first dance to their favourite song
Songs can be incredibly powerful for connecting people, so why not consider having your first dance to the favourite song of the one you're missing? Your first dance is going to be a memorable moment no matter what, but by adding a song that reminds you of someone who can't be with you on your wedding day, it's sure to be even more special.
If you and your partner already have something planned for your first dance, then you may want to walk down the aisle to your loved one's favourite song instead — just be sure it fits in with the ceremony vibe. For an extra special touch, why not have your loved one's favourite song lyrics framed and displayed on a memorial table to pay respects to them? This will ensure they're enjoying your wedding along with you in spirit.
Hold a moment of silence for them
Silence can be just as powerful as words. So, if you're not much of a speaker, holding a moments silence before or after your speeches can be the perfect way to honour, remember, and pay respects to your loved ones who have passed.
You might even want to do this during the reception by letting off some beautiful lanterns into the sky to celebrate their presence, and show you're thinking of them.
Visual ways to remember them
Reserve a chair for them
It's only natural to feel like your wedding day won't be the same without your late loved one at your side, but they can still be there with you in spirit. Whether you're honouring your late grandmother or the bride's father, having a remembrance chair at your reception could be a subtle way of ensuring they can share the special day with you.
You could keep the chair plain, or you might want to place a remembrance cushion, personalised memorial plaque or a mounted photo or frame on the chair, to show everybody who the space is reserved in honour of.
Frame photos of them for the head table
Keeping deceased family and friends close to your heart is sure to be important to you, so why not adorn some your head table with some framed photos of them? These will make beautiful touches that your guests will love to admire and ensure they're still sitting right next to you on your big day.
You could even have a beautiful photo wall panel or photo tiles made with your favourite photos on, which can be hung up around your wedding venue and taken home to display in your own home after the wedding.
Have a wedding memorial table
Memorial tables at weddings can be a beautiful tribute to deceased friends or family members and can be a much more explicit gesture of your honour to them. This doesn't have to interrupt your décor, but instead could just be a little table near the entrance and exit where people can pay their respects as they pass by. Alternatively, if you want to encourage lots of people to see it, you could place your guestbook or guestbook alternative next to the memorial table.
On these tables, you could have a framed image of your loved one, a vase of their favourite flowers, a framed poem or scripture, and even some beautiful tea lights to ensure it's illuminated when the lights go down in the evening.
Consider getting personalised décor to remember them with
You no doubt have a stunning theme planned out for your wedding already, but maybe you could also consider having some personalised décor made that will help you to pay homage to a lost loved one.
For example, you could get a slate made that has your favourite photograph of them on it, and a meaningful quote printed on will add an extra sentimental touch to your wedding décor. Plus, as these are so durable, it'll make a lovely keepsake that you can cherish for years to come. So, whether you choose to prop it up on top of your fireplace, or will complete your garden memorial to them, you can ensure they're always close by.
If you're planning an 'in loving memory' wedding programme, you'll want to feel their spirit burning bright as you and your partner tie the knot. And what better way to do this than get personalised tealight holders made? You can have these printed with images of your lost loved one and could even incorporate a beautiful poem or some words of endearment onto the sides to show your guests how truly loved they were.
You could even design your own remembrance hanging hearts that will look great attached to the top of your head table to show your guests there is somebody special blessing the marriage in spirit. If you have children coming to your wedding and want to avoid any hanging décor they could accidentally knock or be tempted to pull, remembrance photo blocks are a nice alternative and can sit by you, so you can enjoy the reception with them close by.
It's not easy to plan a wedding when an important person will miss out on celebrating it with you, but that doesn't mean they can't be with you in spirit as you say "I do". By incorporating them into the ceremony, and decorating with them in mind, you can ensure you pay your respects to your lost loved ones and do so in a way you're comfortable with.
Here at Write From The Heart, we specialise in remembrance keepsakes to help you honour your loved one in a way you can cherish forever. We also stock keepsakes for a range of other occasions including engagement, anniversaries, christenings, and birthdays, meaning you can find the perfect gifts that the recipients will want to treasure forever. So, why not create your own today? We offer free UK delivery on all orders over £40*, so treat yourself or a loved one today.