Baby shower ideas: Our top tips for planning a baby shower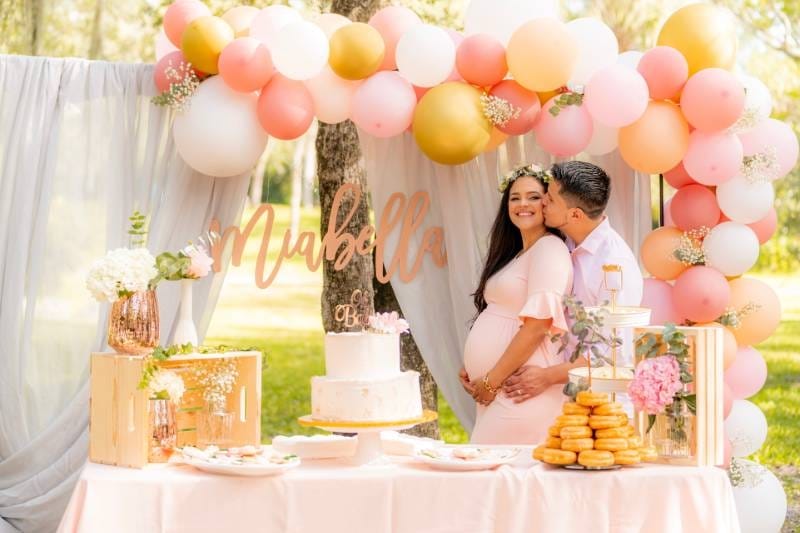 Planning a baby shower for a friend or family member can feel like an overwhelming task, as there's so many things to consider. But we've got some tips and tricks that will help you make this event into the fun, celebratory day that it should be. From décor, to food, to gifting, planning everything in advance will make things run more smoothly later.
Here, we'll be explaining how to plan a baby shower, and sharing some of our favourite baby shower ideas. We'll be covering:
What is a baby shower?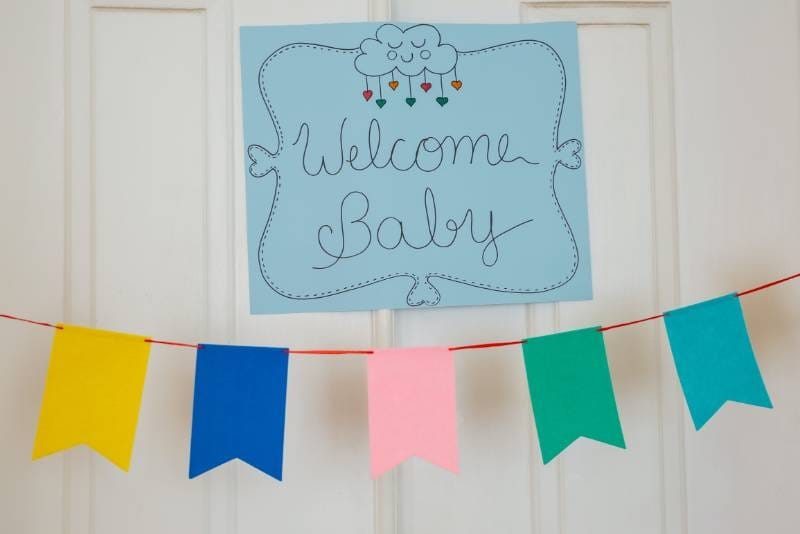 When someone is expecting a baby, their family and friends will of course want to share in the excitement and celebrate the fact that there's going to be a new member of the family. A baby shower is basically a party held to celebrate a new pregnancy.
The baby shower is a time to 'shower' the expectant mother with gifts, love, and excitement. The events we are used to today are a relatively new concept, but in ancient Greek and Egyptian times, people held rituals to celebrate expecting a new baby. Later, during the Middle Ages, the baptism of new babies provided an opportunity to give gifts to new parents.
In the Victorian era, baby showers began to become more like the events that we know today. However, pregnancy and childbirth were not the subject of public discussion, so these events were held after the baby was born. The Victorian version of a baby shower was called a 'stork party', and it was a tea party that included gifts and games for the new mother.
These occasions became very popular during and after World War One and World War Two, especially in the US. They were not only an opportunity to celebrate a new member of the family, they were also a time when friends and family could help the new parents financially, and give them useful gifts, such as clothes for their baby.
What happens at baby shower?
Traditionally, the baby shower is a celebration of the new pregnancy, and a chance for the mum-to-be to have some fun with close friends and family members. Common elements of a baby shower include food and drink, gifts for the expectant mother, games and often smaller favours for the guests.
These elements can vary depending on your budget and the preferences of the mother-to-be. She might enjoy an event held in her home, with homemade food, or she could go for a venue like a restaurant. It's also usual to have decorations to get everyone into that celebratory spirit, and many people pick a theme for the decorations and the whole event to reflect the personality of the mum-to-be.
When do you have a baby shower?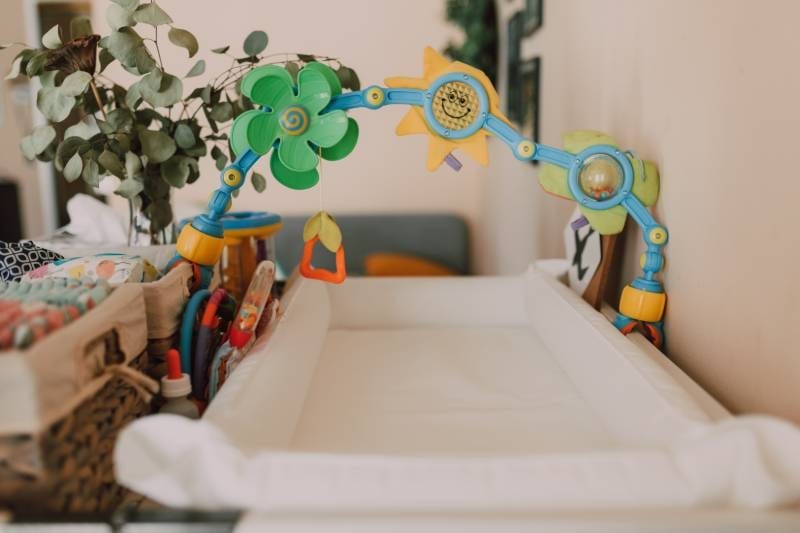 Usually, a baby shower is held between four and six weeks before the baby's due date. This is partly so that if you know the gender of the baby, your guests can have this in mind when choosing gifts. It's also so that, by the time of the celebration, the expectant mother and her partner will have told everyone the news of the pregnancy, but the mum-to-be won't be so uncomfortable that she'll feel too tired for an event.
But, as an added bonus, the parents will also have a better idea of what things they might be missing for their future child, and they can add them to a gifting list.
So, if you have an expectant mother in your family or friend circle, think about when the best time might be for their baby shower. Discussing it with the mother-to-be in advance allows both you and her to plan for the occasion, and make sure prospective guests will be free. If you want to surprise your loved one with the event, enlist her family and friends so you can find a time when she's free without letting the secret out.
Who organises a baby shower?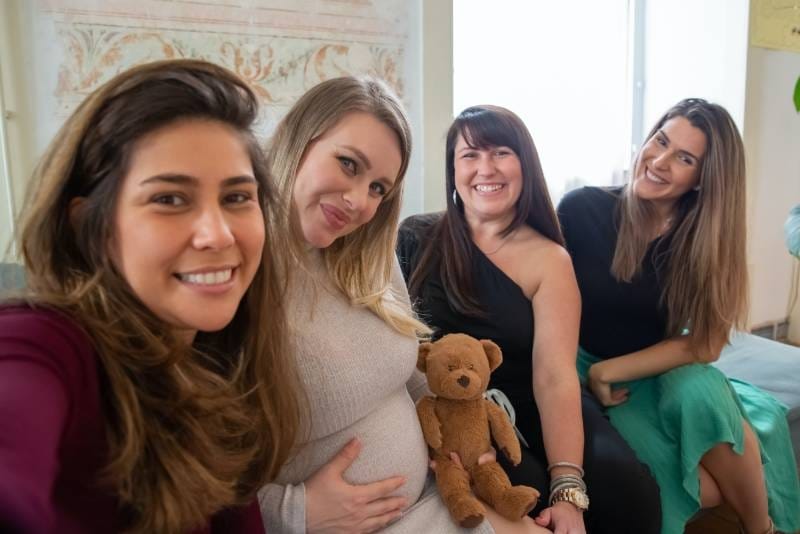 A baby shower is traditionally not planned by the mother-to-be herself. Instead, everything is arranged by friends and family — a single family member might be entrusted with the responsibility, or friends and family might come together to plan the celebration.
Sometimes someone will put themselves forward to organise the occasion, and other times the expectant mother might approach someone and ask them to plan their baby shower. If you've been given the task of planning a baby shower, don't panic — you can ask the mother-to-be what she wants at her party. You can also put together a gift registry with her if there are certain things she would like guests to buy for the baby.
Who pays for the baby shower?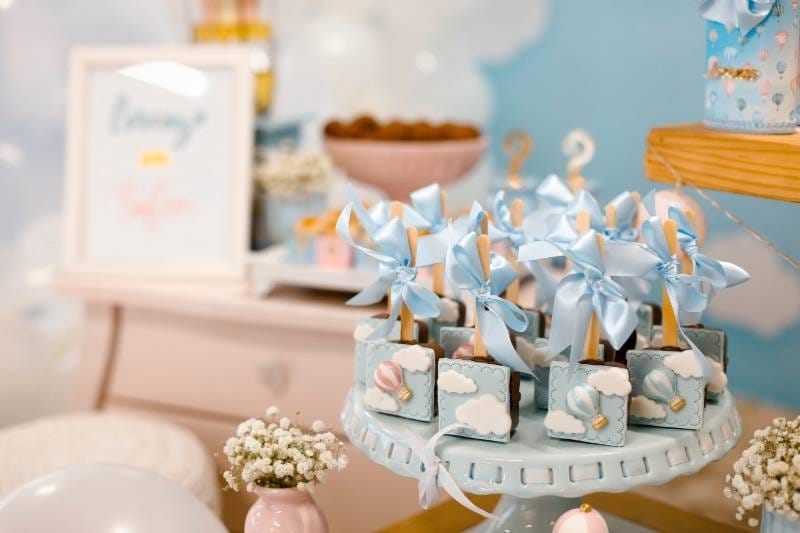 Traditionally, the responsibility of paying the bill at a baby shower falls on anyone except the expectant parents — usually the host will pay, or all the guests will chip in and contribute to the cost. This is because the baby shower is an event held for loved ones to 'shower' the couple with gifts and give them support. So, if you are organising a baby shower with family and friends, you might all chip in to pay for the day's celebrations.
However, some couples, especially in the UK, do choose to pay for their own baby showers. This is particularly common when the baby shower is held at a restaurant, café, or hotel, where the mother-to-be might want to pick up the bill as she has invited everyone to her favourite venue.
Check with the couple beforehand and communicate with prospective guests so it's clear well in advance who is paying for the event. This means that it's all sorted before the big day, and you can all relax and enjoy the fun and games.
Who do you invite to a baby shower?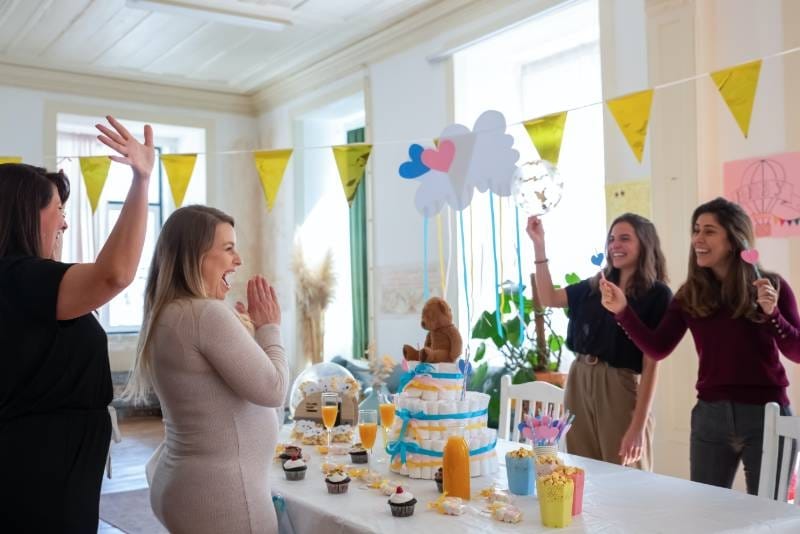 Every guest list for a baby shower is different, and the choice of who to invite to this special event is extremely personal. Typically, family members and close friends are present at a baby shower, and you should try to organise the guest list in advance of the occasion to give time for people to RSVP. This will mean you have an idea of numbers prior to the event and can plan the venue accordingly.
However, a general rule is that if you are organising a baby shower, you should always check the guest list with the expectant mother before going ahead and inviting everyone. There might be people she doesn't want to invite, or guests she would love to invite that you might have forgotten in the rush of making arrangements.
Where to have a baby shower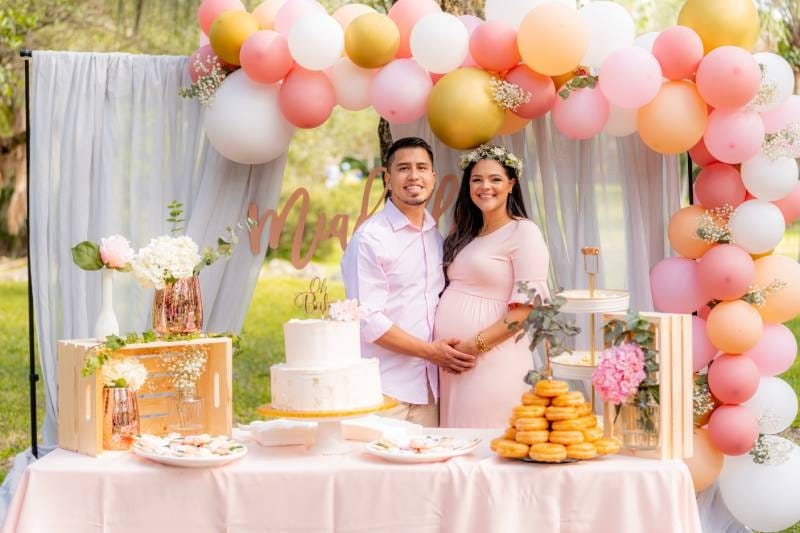 Venue choice for a baby shower can vary a lot depending on how many people you invite. You need a location that can accommodate everyone who wants to come, without it feeling either cramped or too empty. If you're having a small baby shower, with only very close friends and family attending, then you should have plenty of room at someone's home to host the event. This could be your own house, that of a family member, or even the home of the mother-to-be herself.
However, if you have too many guests to host it in a home, then there are plenty of options. Common choices are tea rooms, community centres, restaurants, parks, hotels, or club houses. For a more personal touch, you could choose a baby shower location that reflects the expectant mum's favourite hobbies or interests.
Some unique baby shower venue ideas might be the place where the expectant mother first met her partner, a botanical garden, a spa, or a local farm. Then there are interactive choices, like craft workshops, that can add an extra element of fun to the whole occasion.
You should make sure to contact the venue at least a few months in advance, as getting it booked in means you don't have to worry about something as important as the venue when you are closer to the day.
Baby shower themes and decoration ideas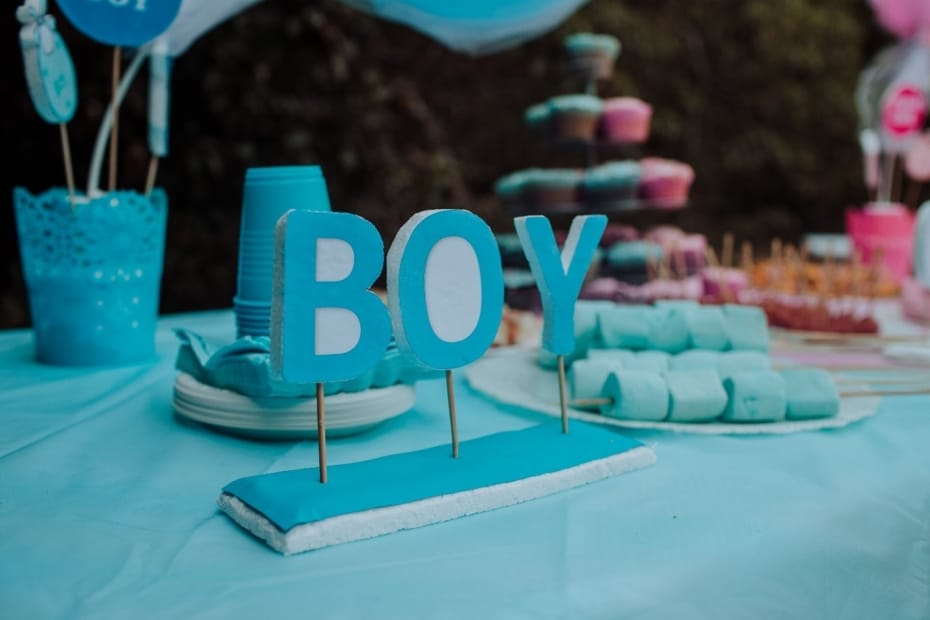 Choosing a baby shower theme is an important task, as you'll want the décor to be perfect — for both memories and photos. Woodland animals, dinosaurs, and mermaids are all cute and fun baby shower themes, but you can get creative and choose any theme that suits the mother-to-be best.
You could make or buy baby shower decorations based on the expectant mum's favourite colours, or order arrangements of her favourite flowers to be delivered on the day as a surprise last touch to the décor.
If you know the gender of the baby, you could decorate in colours to match the baby's gender, with blue being traditional for boys and pink being traditional for girls. Our favourite baby shower decoration ideas include blue or pink balloons, letter balloons, bunting, and handwritten congratulatory messages.
It's a good idea to work with the venue in advance to arrange decorations — if you are hosting your baby shower in a hotel or restaurant, they may contribute to the decorations, so double check when you book the space.
You might also try personalised decorations, such as a personalised baby shower finger print package, or a modern guest book alternative. By using these, guests can leave their signature with a fingerprint to remember the occasion. Personalised scan hearts also make for a beautiful baby shower decoration idea, and they will turn into beautiful keepsakes after the event.
Some mothers choose to have a baby shower book, where guests can leave heartfelt messages for the baby to read as they get older. If you're not sure what to write in a baby shower book, consider leaving a piece of advice, an inspirational quote, or well wishes for the future.
What to have at your baby shower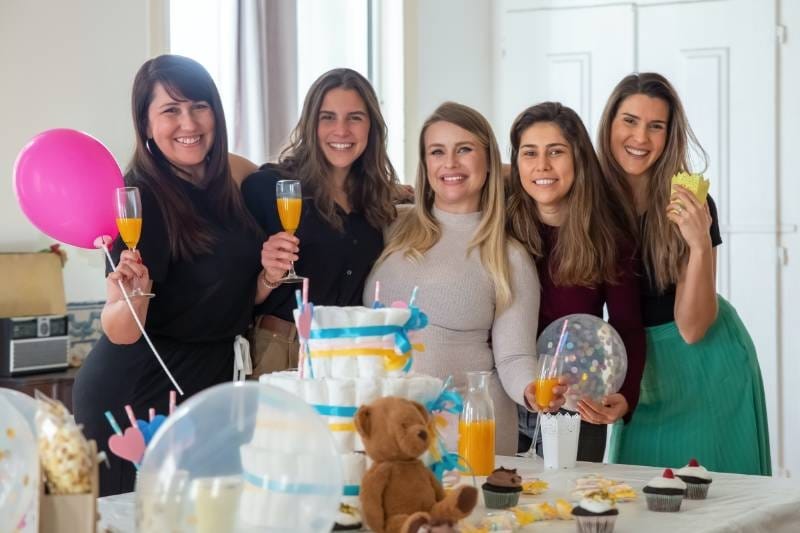 There are so many elements to consider when thinking about what will happen at the baby shower you're organising. Will there be games, or not? Will you provide food, or just snacks and drinks? Will you give out little favours to guests as they leave?
Here are all the things you need to consider:
Baby shower food ideas
It's important to decide what baby shower food you want to provide for everyone, and to bear in mind what time your event is taking place at. If you will be holding the baby shower throughout lunchtime, it's only polite to provide some lunchtime nibbles, like sandwiches. But, if you're getting people together in the afternoon, then your baby shower food of choice might be tea and cake.
Of course, make sure to note any allergies of your mum-to-be, as well as ask the guests for any allergies too. This will ensure a stress-free event, with no one unable to grab a snack.
You can also match your food to the baby's gender, with pink baby shower food for a girl, and blue for a boy. An easy way to do this is by using food colouring to make pink or blue icing for cake or biscuits. Other baby shower food ideas include candyfloss (which comes in pink and blue), blue and pink cocktails, and ice cream or sorbet in flavours like raspberry, strawberry, and bubble gum.
Baby shower game ideas
There are lots of different fun baby shower game ideas that you might want to bring into your celebrations. One idea is 'Name That Baby!' where you find photos of famous people as babies and have everyone guess who they are. You might also try this with friends and family, so you ask people to match the baby photo to the guest.
You can also play 'Don't Say Baby', a game where everyone is banned from saying the word 'baby' as soon as they come through the door. Pin a badge onto everyone's top, and if they say 'baby', the person they're speaking to can remove the badge and wear it instead. The guest with the most badges at the end wins a prize! This game can be as short or as long as you want.
Baby shower favour ideas
Giving out favours to guests at the end of the baby shower can be a wonderful way to thank people for their presence, support, and lovely presents. The gifts don't have to be big — some nice sweets or chocolate, scented candles, soap, or bubble bath are all lovely baby shower favour ideas and are more than enough to give out. Just make sure that you are aware of any allergies your guests have beforehand, so you can take this into account when choosing the treats.
What do you buy for a baby shower gift?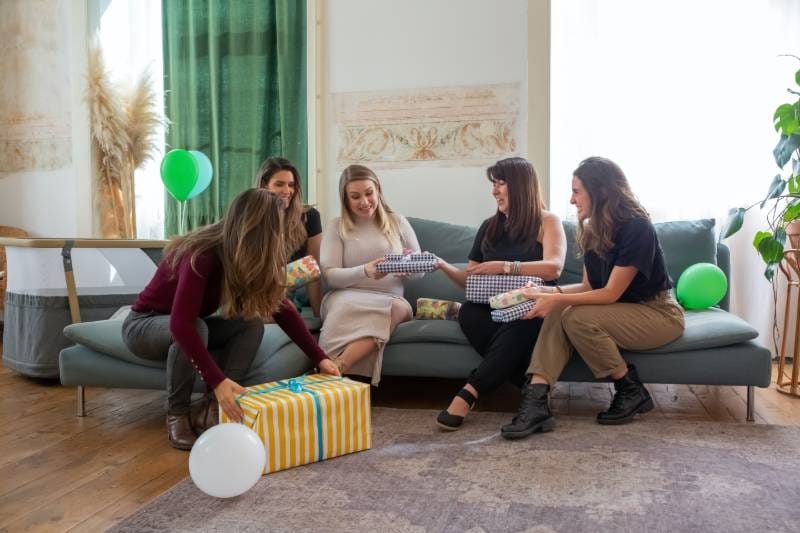 Finding the right gift for a baby shower can seem like a complex task all on its own. But there are lots of ways that you can find the perfect gift for the mum-to-be in your life.
Deciding what gifts to bring to a baby shower is often easier when the expectant parents have drawn up a gifting list — though in this case, you should check with other guests to make sure you don't double up.
But, if the mum-to-be hasn't prepared a list, then it can be tricky to know what to get for a baby shower gift, so it's always best to stick to something she can use. Baby clothes and toys are always popular presents. But things like face masks, scented candles, bath bombs, and makeup are all lovely gifts as the mother-to-be can pamper herself.
You could also try luxurious pyjamas for the new mother to have a relaxing night in. Here at Write From The Heart, we have a beautiful selection of black, pink, white, and grey luxury pyjamas that would be perfect for the new mum to relax and snuggle up in. They can even be embroidered with her name or initials for an extra personal touch.
Personalised gifts are a great way to bring something unique to the baby shower, and give a present that will be remembered for years to come. A personalised baby scan keepsake can be a wonderful way to have a memento of the pregnancy, while a personalised baby boy or girl gift set can serve as a present that is both unique and practical.
Another lovely baby shower gift is a personalised keepsake box, where the mother and baby can add their memories over the years.
What do you write in a baby shower card?
When you give the mother-to-be a baby shower gift, you'll of course want to give her a card too — this is a lovely extra way of showing support to the new parents and celebrating the pregnancy. If you're struggling with knowing what to write in a baby shower card, stick with messages of support.
Say congratulations for the new family member being on the way, and offer messages of good luck for the birth. You can also thank them for inviting you to their baby shower, and say how excited you are to meet the baby when the little one is born.
Arranging someone's baby shower can come with a lot of pressure — you want the event to be perfect for the mother-to-be and all of her guests, and you want it to go as smoothly as possible. By considering some of these baby shower ideas in your planning, you can start to organise your event in advance, and be sure that everything will go like clockwork on the big day. Then, you can find some time to sit back, relax, and enjoy the excitement of a new family member arriving soon.
At Write From The Heart, we have plenty of personalised gifts for any occasion, as well as our section on baby shower gifts and new baby gifts. By adding a personal touch to both the whole event and your gifting contribution, you can turn the baby shower into a memorable, exciting day that celebrates the imminent new arrival.