Research reveals baby names that could help kids land their dream jobs
Could your child's name determine what career they end up with?
We've crunched the data to find out what male and female names are most common in 20 dream jobs, including ballerina, actor, footballer, lawyer, and doctor.
If you're looking for baby name inspiration or wondering whether your child could be destined for stardom, take a look at what we discovered…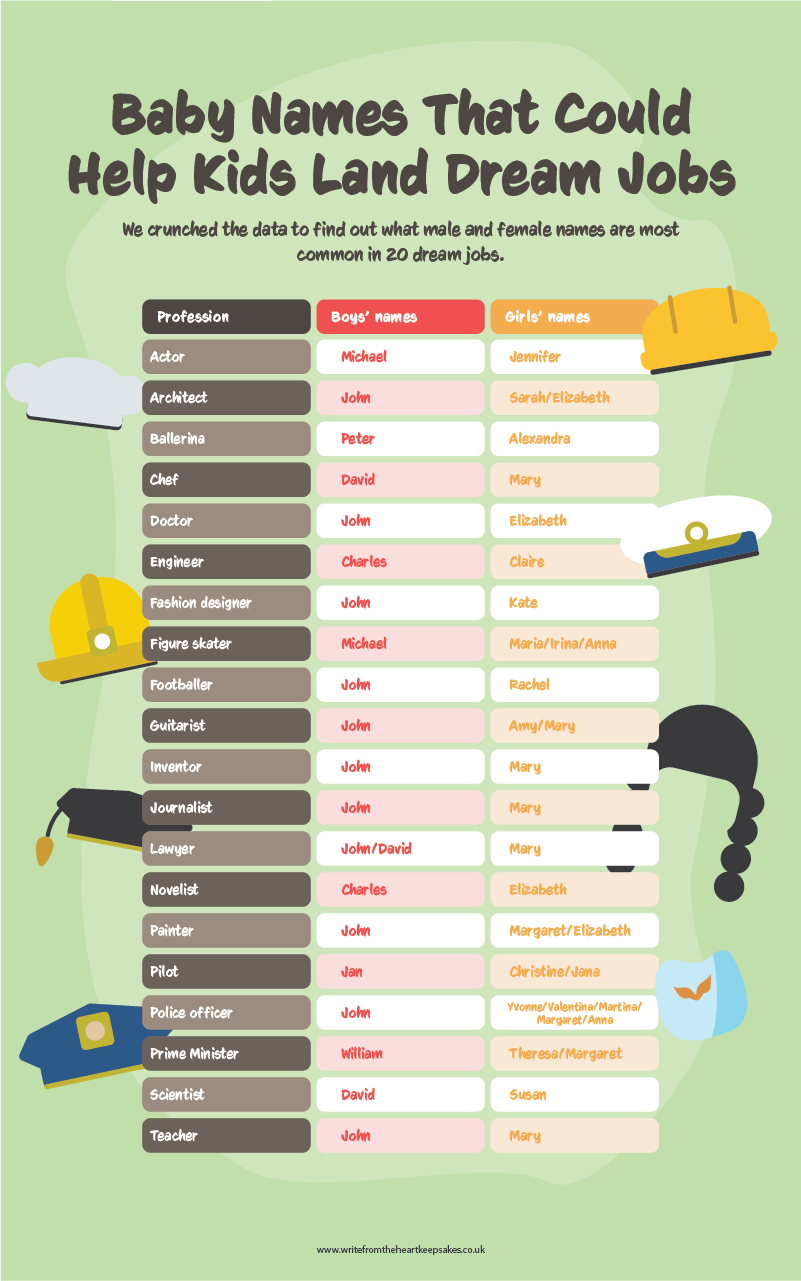 Actor
Want your son to grow up to become star of the show? From the data collated, we found that males named Michael are most likely to become top actors, with this name accounting for 3.60% of our sample. Should you choose to call your son this, he'll be following in the footsteps of some of the greats like Caine, Keaton, and Fassbender.
If you're expecting a little girl and want her to be an on-screen sensation, naming her Jennifer may help her on the road to stardom. From the list of best female actors in the world, Jennifer appeared 6 times (Aniston, Beals, Connelly, Garner, Jason Leigh, and Lawrence), accounting for 2.70% of the data.
Architect
Within our research, we looked at a list of famous male architects' names, of which John topped the sample with the most mentions (3.85%). With architects on the list like John Holland, who developed the first submarine to be commissioned, it's clear your son would be in fantastic company. Even if his interest isn't in architecture at first, letting him know he's named after someone who's had such an impact on the world might just pique his interest.
When looking at the equivalent female data for famous architects, we discovered that both Sarah and Elizabeth topped the list together, each accounting for 2.09% of names in our sample. Could your little girl become an architecture professor, like Sarah Whiting, or design hundreds of buildings, like Elizabeth Wilbraham?
Ballerina
If you're hoping your son will grow up to become the next Billy Elliot, naming him Peter could be a steppingstone to success. From a list of the most famous male ballet dancers, Peter was the most common name, accounting for 4.69% of the sample.
If you want to encourage your daughter to get involved with ballet, picking the name Alexandra could well help her pirouette her way to the Royal Ballet School — or even see her on the big stage performing in classics like Swan Lake. The first name Alexandra accounted for 3.00% of all data from a list of famous female ballet dancers.
Chef
Cooking is a skill all children will eventually need to learn, but if you're hoping your little one can repay you for all of the delicious meals you'll cook for them as they grow up, then you may want to consider boosting the likelihood that he or she becomes a chef.
When analysing famous male chef names, David appeared 14 times out of the total sample size of 465, meaning 3.04% of top chefs have this first name. While they'll have undergone much training and received many qualifications, perhaps the name David is a good luck charm for aspiring chefs and should be considered for your son.
In our sample of great female chefs, Mary was the most common first name, accounting for 2.54% of the dataset. So, this name might just send your little girl on the pathway to earning a Michelin star.
Doctor
If you'd love your child to venture into a medical field when they're older, naming them after a great doctor could give them a nudge towards achieving their goals. From our sample of data, we found that John was the most common name for famous male doctors, accounting for 6.67% of the data.
Meanwhile, for the female version of the famous doctors list, the name Elizabeth came up top, accounting for 5.71% of the sample. So, if you'd like your daughter to follow in the footsteps of the likes of Elizabeth Blackwell and Elizabeth Anderson, the key to getting her started may be in the name.
Engineer
With so many types of engineering to venture into, from general and civil to mechanical and even aerospace, there's plenty for your child to get excited about.
Our research into famous male engineers found that Charles was the most common first name, accounting for 5.66% of the data. So, if you're hoping your son will take on a career in this challenging yet rewarding industry, perhaps naming him after skilled engineers like Charles Babbage — who originated the idea of a digital programmable computer —could help him on his way to joining the greats.
Just 12.37% of engineers in the UK are women, but you could help improve the balance by naming your daughter Claire. 3.67% of the female engineers in our sample have this first name. This includes Claire Gmachl, a Princeton University professor known for her work in the development of quantum cascade lasers.
Fashion designer
If fashion is your passion and you're hoping it'll be your son's too, naming him John could be a step in the right direction. From John Galliano to John Bates, there are plenty of designer namesakes to be inspired by, with the first name accounting for 5.52% of our sample.
When it comes to female designers, our research revealed that the name Kate has fashion written all over it. This first name represents 3.12% of the women on our list, and so could help your little girl see her name on a label.
Figure skater
If your son is named Michael, he could be destined for a career on the ice. Four famous Michaels appeared on our reference list, accounting for 2.82% of famous male figure skaters.
If you're expecting a little princess to arrive soon and are hoping she'll Lutz her way to success on the ice, naming her either Maria, Irina, or Anna might help boost her to success. With each of these names appearing three times within our sample data — which was equivalent to 2.04% per name — it's clear that a good handful of the greats have rose to fame with these names.
Footballer
Football is something many young boys will grow up watching on television and playing at school. And, with research from Reed1 revealing that professional footballer was top of the list (23%) for boys' dream jobs, could it be worth giving him a helping hand?
Of a sample of 1,822 international footballers for England, Wales, Scotland, and Northern Ireland, 78 (4.28%) of these were named John. So, is it in the name? Only time will tell, but it certainly seems to have a good track record.
If you want your daughter to get into competitive sport, football is a great option. With many female footballers leading the way and changing the landscape of football as a traditionally male sport, there is plenty of scope for new female talent. From a list of 364 female international footballers for England, Wales, Scotland, and Northern Ireland, 11 (3.02%) players were named Rachel. So, if you're looking for a possible recipe for professional athlete success for your little one, you may want to consider this name.
Guitarist
Many parents hope their children grow up to have a musical talent. As well as the potential for stardom, the benefits of playing music include improved brain function, emotional wellbeing, and self-confidence2. And, learning the guitar is no different.
So, if you're hoping your son will develop a talent — and future career — from being a guitarist, our research suggests you may want to consider calling him John. Within the sample of famous male guitarists used for our research, John was the most common name included in the list, accounting for 2.72% of all data. With talented artists including John Mayer and John Lennon included in the dataset, your son will no doubt be in great company.
If you're hoping your daughter will scale her way up to a position as a famous guitarist, our research suggested Amy or Mary may be the name for her — with each accounting for 1.51% of the first names analysed. Although your daughter's success will be down to her individual talents and passions, perhaps naming her after one of the greats will encourage her to pick up the guitar and take up a career within the music industry.
Inventor
When conducting our research into famous male inventors, we found that John was the most common first name within the sample. There were 67 men with the name, equating to 4.96% of the total data. With John Bardeen, co-inventor of the transistor; and John Baird, creator of the mechanical television, radar, and fibre optics; to look up to, your son could well be on his way to success.
According to a study3 by the UK's Intellectual Property Office (IPO), female inventors account for just shy of 13% of patent applications globally. With women being underrepresented in the field, it's perhaps time to shake up the industry and name your child after one of the most talented and creative women the world has seen.
From our reference dataset, we found that Mary was the most common first name for a female inventor, accounting for 7.50%. With gifted women like Mary Kies, inventor of a weaving technique, and Mary Anderson, inventor of the windshield wiper blade, among the ranks, your daughter will no doubt be honoured to be named after these iconic women.
Journalist
Journalism is an interesting and fast-paced career. If you're hoping your future son or daughter has a flair for storytelling and reporting, looking at past journalists who have rose to fame in the role may inspire you for names.
The data for famous males in a journalist role showed that John is the most common name, with 193 successful men in this field — equating to 3.44% of the total sample. For women, Mary was found to be the most common first name within the sample, appearing 48 times out of a list of 3,332 famous female journalists (1.44%).
Lawyer
A career in law is possibly one of the most testing, but with great responsibility comes great job satisfaction and a high salary to boot.
In our reference list of famous male solicitors, John and David were the most frequently mentioned first names, each accounting for 6.35% of the data. So, if you're hoping your son will follow in the footsteps of John Howard or Dave Rowntree, then naming him after one of these men could set him off on the right track.
If you want your little girl to grow up to be a headstrong solicitor, our data sample revealed that Mary could be the most suitable name to call her. Appearing 11 times in a dataset of 500 names, Marys represented 2.20% of female lawyers listed, with powerful women like Mary Arden and Mary Howell leading the way. So, can naming your daughter Mary pave the way for a successful career in law? There's only one way to find out…
Novelist
If you and your partner have a way with words, why not help your son along with his writing career, too? Charles was the most frequently mentioned first name in the studied list of famous male novelists, so it's well worth considering this name for your little one. It appeared 65 times within the data, accounting for 6.54% of listed authors. You might just have the next Dickens on your hands!
If you've got a little girl on the way, naming her Elizabeth could help her form a career in writing. From a list of famous female novelists, Elizabeth appeared 6 times, representing 4.14% of all names on the list. So, naming your daughter this could encourage her to follow in the footsteps of some of the most iconic novelists, including Elizabeth George and Elizabeth Gaskell.
Painter
If you've got a flair for the arts or are just hoping your child will be able to work more magic with a paintbrush than you can, it may be worth looking at the past and present talent in this industry for baby name inspiration.
From the data collected from our sample of famous male painters, we found that John was the most common name, appearing 19 times within the full sample of 909 names (2.09%). So, if you'd like your son to follow in the footsteps of some of the greats like John Huston, John Absolon, and John Constable, naming them after these talented painters could help pique their interest in the art.
Analysis of a famous female painters list revealed the most common first names of Margaret and Elizabeth, each appearing 4 times and representing 2.31% of the dataset. Examples include accomplished painters like Elizabeth Murray and Margaret Bacon.
While your child's talents will depend on their own interests and their individual creativity levels, maybe naming them after one of these gifted ladies could make them want to pick up that initial paintbrush and create works of art for a living.
Pilot
Everything about the flying experience is likely to intrigue your children at some point, and if you're hoping they form a career that can really take off, knowing the most frequent pilot names could help with getting them started down this career path.
We took a look at the International Gliding Commission's ranking lists to see which first names most regularly reach the skies. The name Jan, a traditionally male name in countries like Germany, Sweden, and Czechia, accounted for 3.80% of the top 500 pilots.
On the female-only rankings, the first names Christina and Jana came up most frequently, each representing 1.94% of the data. Perhaps one of these names could prepare your little girl for career lift-off!
Police officer
Police officers are well respected, and it's no surprise that this career frequently crops up in kids' dream job lists4.
Our research revealed that successful policemen are most likely to be named John, with 2.80% of those on our reference list having this name.
Meanwhile, there's quite a bit of variety when it comes to successful policewomen's names, with Yvonne, Valentina, Martina, Margaret, and Anna each accounting for 3.13% of our dataset. Picking your daughter's name from this selection could make them more likely to head up a police force in the future.
Prime Minister
We looked at the names of everyone who's held the title of Prime Minister of the United Kingdom and found that 8 different Williams have led the country. This first name therefore represents an incredible 14.81% of all male Prime Ministers.
It also means there have been four times as many leaders named William than there have been female Prime Ministers. When it comes to your little girl, there's only Theresa May and Margaret Thatcher to look to for inspiration. If you want to put her on the path to a career in politics, perhaps you could also look to women like Nicola Sturgeon, Caroline Lucas, and Diane Abbott.
Scientist
Science is one of the core subjects your child will begin learning when they start primary school, and with the average salary for scientists ranging from £35,698–£67,5005, there's plenty of scope for your son or daughter to have a secure and fulfilling future.
So, if you're hoping your little one will grow up to be a top scientist, it may be worth seeing how they can follow in the footsteps of the greats.
In our 1,000-strong sample of the best male scientists of all time, the first name David cropped up 55 times, which meant it accounted for 5.50% of the data. Meanwhile, the female version of the list revealed that Susan was the most common name for talented scientists, equating for 2.90% of the data. While they'll certainly have to get their heads down and concentrate on their learning, naming your child after some of the very best may increase their drive to succeed in a scientific field.
Teacher
Being a teacher is an aspiration for many children from their early years and their first experiences with their own teachers. In fact, in a report by the OECD6 looking into the dream careers of children from all different backgrounds, teacher was ranked within the top 3 jobs for both disadvantaged (8.6%) and advantaged (5.6%) children.
When we looked at a sample of famous male and female teachers' names, we found that John was the most common name cited for males in this profession, with 50 men in the sample accounting for 3.57% of the data.
For women looking to form a career in the wonderful world of teaching, the name Mary might give them the nudge they need to succeed. With over 17 Marys in the sample (3.03%), could it mean that children with this name are destined for a career in teaching?
Thoughts from our Managing Director
"I know the trials and tribulations that come with finding the perfect name for your baby. When I was pregnant with my daughter, I found myself looking for inspiration and tips on what to call her. During my search, I found it common for parents to follow certain trends and traditions, but it's rare for dream careers to be considered.
"There's a hypothesis called 'nominative determinism' that states people lean towards work that suits their name, but this usually concerns surnames. It got me wondering whether certain first names crop up more in certain roles.
"We decided to look at the lists of famous people in everything from the arts to science and engineering. Our results show that John is a particularly common name for accomplished men in a number of fields, including fashion design, football, and teaching.
"There was much more variation in the pool of female names, perhaps because women were underrepresented in roles back when names were less varied. However, the more traditional English name Mary did male a few appearances.
"A name can hold so much meaning and, here at Write From The Heart, we believe that children can grow up to be anything they want to be. But could giving your child one of these names help them to carve a path to a dream career? We never say never."
— Kirsty Prankerd, Managing Director at Write From The Heart
About Write From The Heart
Write From The Heart specialises in personalised gifts and keepsakes. You can add your child's name to clothing, photo collages, memory boxes, and much more.
Sources and methodology
Names taken from Wikipedia, Ranker, the UK government, and the IGCR. For a full list of sources and data, please click here. First names as listed by the sources and so may not represent birth names. Spelling variants treated as different names. Data gathered in January and February 2021.
___________________________
1 https://www.reed.co.uk/career-advice/revealed-what-your-kids-really-want-to-be-when-they-grow-up/
2 https://www.learningpotential.gov.au/articles/musical-benefits
3 https://www.gov.uk/government/publications/gender-profiles-in-worldwide-patenting-an-analysis-of-female-inventorship-2019-edition
4 https://www.thebalancecareers.com/top-kids-dream-jobs-2062280
5 https://www.totaljobs.com/salary-checker/average-scientist-salary